We managed to find another fabulous guitar made by an Italian luthier working in NYC in the early part of the 20th Century, this time Michael Iucci.  Iucci built some very ornate banjos and mandolins, and a least a few guitars bear his stamp:  "M. Iucci, Music House, 77 Broome St. N.Y." Interestingly, early census entries list him as 'musician'.
This guitar is finely constructed, and bear the hallmarks of the Italian-made instruments from this time, including the 'tenon' neck joint, as opposed to the traditional 'dovetail', the large, square-cut kerfing, the ornate 'Nick Lucas' inlay, and the fancy purfling.  The underside of the top is also cleated along the center seam is the same way guitars made by A. Cerrito were cleated, so perhaps he had a hand in this one?
The standout unique feature of this example is the maple body, very rare on early flat tops, and rarely seen on extant guitars from the Italian builders.  Of note is that this guitar, with its maple body, fancy inlay and graceful 'mustache' bridge are identical to the guitar found in photos of early country music pioneer, Earnest Stoneman.   Stoneman's guitar was an 'auditorium' size  (15 1/2″ across the lower bout) and the example here is a 'grand concert' size guitar (14 3/4″ across).
The guitar produces a wonderful tone, with powerful overtones not found in many early flat tops.  A beautiful companion piece to our jumbo 12-string presented below.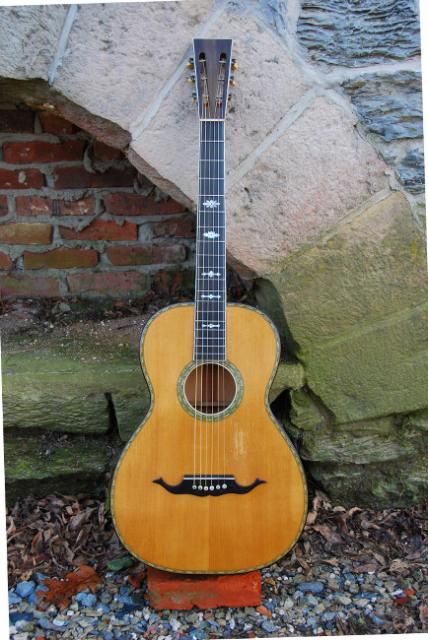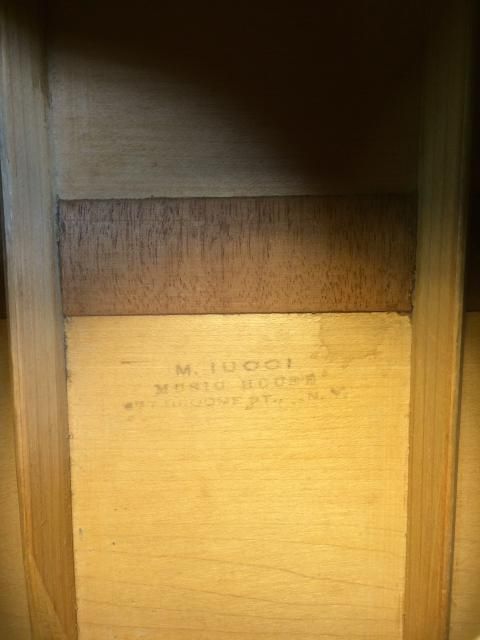 This is the ink stamp found inside the sound hole.
Cleats commonly found in A. Cerrito guitars. The blond cleats are simply repairs.
M. Iucci is said to be the gent with glasses under the umbrella. Photo courtesy of the Silanos family.