Part of the vintage guitar adventure is to find old guitars that have been neglected over many decades, but have good 'bones' and a cool vibe, and get them back into optimal playing shape.  The 'Maine Tumbleweed' Stella is one example.  We bought this guitar at the Philly Guitar show a few years ago, mostly for 'parts', like the tuners and end pins, but the more it sat in my workshop, the more it called out, "Rescue me!"
So last week I began to disassemble.  First, I looked it all over, inside and out, like I do all guitars we get in.  Next I jot down pertinent info in a log that I keep on my bench, so that 1.  I can refer back to the guitar in case I get one like it in the future (like to find the  dovetail 'pocket' location for a specific year/brand of guitar) and 2.  So I can remember what I've done and need to do to get the guitar finished.
The Tumbleweed needed a host of things:  neck reset, braces reglued, bridge repaired and reglued, top cracks addressed, frets leveled and dressed, tuner parts sourced and tuners repaired.  As usual, close to a thousand dollars worth of work in order to sell it for $500 .. what a business model!
Job one was to address the old top crack repairs.  Someone, a long time ago, used something like Plastic Wood to repair the cracks.  Keep in mind, my goal was to stabilize the guitar, not make it look like a shiny, new one, so, least invasive are the watch words.  I meticulously picked away the old Plastic Wood using mostly dental tools I scarfed from my daughter's dental cart she left here after graduating from dental school.  Then I glued and cleated the cracks, using hot hide glue.  Hot hide glue is a time proven glue, easy to use (once you get it down pat), and it what these old guitars were put together with back in the day.
Here's a shot of my glue pot.
My glue pot
I took a hint from Frank Ford's www.frets.com website, but instead of using disposable cups, I use the glue pot heater and a weird Martini glass immersed into the water.  I keep freshly made hide glue in the refrigerator, and when needed, tear off a small chunk, put it in the Martini glass, which is nice and cozy in the hot water.  Very simple.
Next, I began to glue the braces, again with hot hide glue (all the repairs to this guitar were with hhg).  Some don't like to use hhg if there is a chance of a minute or more of open time before clamping because hgg will begin to gel quickly.  Here's how I overcome that:
Heating up the guitar before gluing
I use a combination of heat lamp and hair dryer.  I blow hot air into the guitar body while at the same time burn a heat lamp within a few feet of the guitar.  The lamp does a few things.  First, it heats the guitar, and at the same time, allows a lot of light so I can see what I'm doing.  Just got to watch out for a burned forearm!  Notice the two scissor jacks inside the guitar (available at www.stumac.com).  I often put these in place before I apply the glue so I can save a step, and some time.  It works as long as I can still get the artist trowel under the brace.  So I heat the trowel in the glue pot water, dip it in the glue, and slide it under the brace.  I'll do this as many times as needed, within reason.  I also tape off the back of the guitar so as not to smear glue all over and make a messy job.  Once the glue is applied, I tighten the already-in-place clamps (another time saver).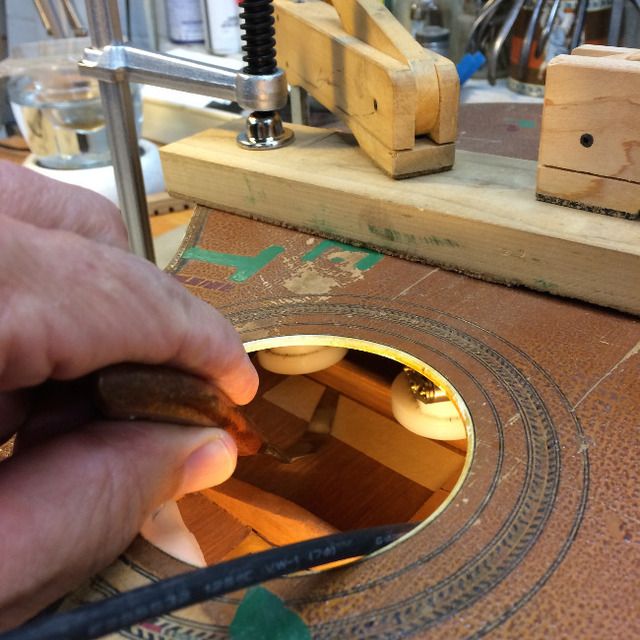 After all the braces were glued (this usually takes a looong time on a guitar like this) I filled in the screw holes in the bridge, cleaned it up and reglued it back on the guitar top, pretty routine.
Next up was the neck set.  Because this guitar likely sat in a very hot environment for a long part of its life (as evidenced by the 'cooked' finish and many loose braces) the neck popped out 'dry', no steam necessary.  I love when this happens, and always use it as my first method of choice when removing a neck.  I once had a string of 6 guitars in a row where the necks popped out dry, including a 20s vintage Martin!  This way, there's no fret removal, and no hot steam to mess up a finish or swell wood.
To gain the proper neck angle I always check my string alignment first to see if I must shift the neck left or right as I remove material from the heel.  If the guitar had no strings on it, I simply use a piece of string held taut from nut to appropriate bridge pin hole.  I had to shift this one to favor the treble side.  I also use a straight edge along the neck to see where it hits at the bridge, and will also sight down the fingerboard to get a quick determination, too.  There's a lot more to say about the neck set procedure, but I'll just add that I'm also cognizant of the stiffness of the neck, which will determine how far I go with the angle.  The spongy necks (think cheap Regals, Stellas, et al) will usually get a more radical angle than a good stiff neck with a truss rod, like a Martin or Gibson.
I always dry fit and clamp the neck into place and put on a few strings to tension, and then assess what the neck is doing, and also check my action.  I adjust as necessary before I do a final glue of the joint.  It took me about a dozen neck sets before I learned this valuable lesson.
I clean up the fingerboard extension, guitar top, and the dove tail joint and 'color in' any glaring white wood exposed for aesthetic purposes.  Before glueing I always dry clamp to see what's what.  Next, I heat the parts with the heat lamp and hair dryer, which keeps the glue in liquid form longer, allowing for longer clamping time.  I figure I have about two minutes to get it all clamped up.
Heating the dove tail joint prior to gluing
Once the joint is together, I use the typical cauls and clamps.
All clamped up!
If there are gaps in the fit, I'll cheat and in-fill quickly with hhg and ebony dust … learned this trick from one of the best in the business!
I did hit one snag, the tuner gears are press-on type, and one was cracked, and I'm missing a few parts, so I had to put on different tuners until I source the parts to restore the original 'gear up' tuners from before ca. 1928.  This Stella actually dates to likely the teens, or maybe even a bit earlier.
Early 20th Century 'gear up' tuners
That's it in a nutshell.  After cleaning up any glue, and leveling and dressing frets, making a new nut or saddle, I'm always excited to give the resurrected guitar its first strum.  The Maine Tumbleweed did not disappoint!  Great sound, great player, and another oldie back in action for the next century!